So last week, I had my first practice with my new girls soccer team at my primary school.
Here they are: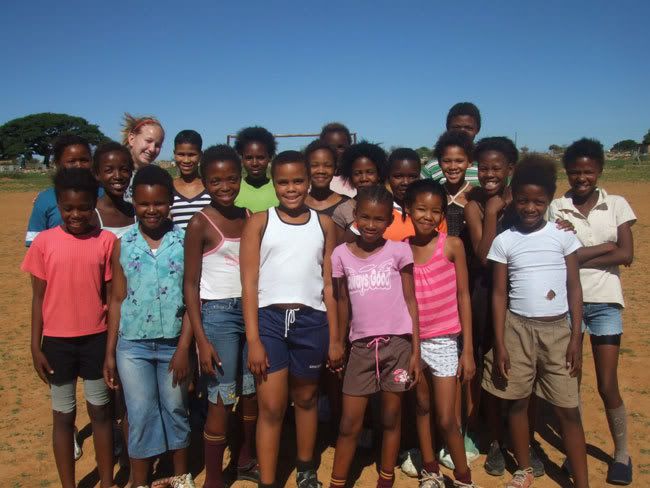 They are going to be KILLER!!!!!
Who they'll destroy ... I have no idea. There probably isn't another girls team around for miles and miles. But perhaps I will start one up at my other school, too. Then no matter who wins, I win!
As a result of never ever playing organized soccer and probably only touching the ball a few times, they're a bit lacking in skill. What they lack in skill, however, they make up for in BRUTALITY!!!!!! (I mean that in a good way, of course.)
These girls. I have never seen little girls go into tackles like these ones. It's really exciting.
At the first practice, we had a pretty large audience of students from the school. There were over a hundred kids out there watching the practice- cheering them on from the sidelines. I was smiling the entire practice.
There was a slightly smaller crowd this time, but it was still pretty substantial. About the equivalent of some of my college games ... I haven't really decided how I feel about that.
Anyway. They have a lot of potential, and it is obvious that they want to be there and work hard. I was late to practice this week and the girls were already out there warming up. It was only the second practice and they're already on top of it!
On a totally unrelated note, there are probably 20+ flies flying around my room right now. It's driving my a little bit crazy. I'm thinking it's time to break out the DOOM Super (the slightly faster killing, slightly more humane line of DOOM.)
I guess I'll close this up with an action shot from this week:
Oh and as a final thought- if anyone reading this happens to have any extra soccer balls, pennies, cones, etc. that they're willing to part with, I think my girls and I would be more than happy to take them off of your hands ...